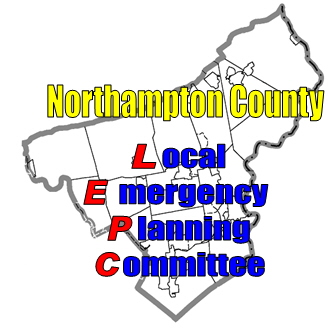 Northampton County LEPC
Mission Statement
The primary mission of the Northampton County LEPC is to develop and implement community emergency response plans for potential releases of EPA designated extremely hazardous chemicals.
Membership
The LEPC consists of members representing elected county and/or municipal officials, law enforcement, fire & rescue services, industry, emergency management, local environmental agencies, hospital and EMS personnel, transportation, the media, volunteer organizations (i.e., the American Red Cross of the Greater Lehigh Valley), and the Northampton County Hazardous Materials Team.
Population
The LEPC serves 312,951 (2020 Census) residents throughout 38 municipalities.
Tier II Facilities
Representative facilities include heavy and light manufacturing, chemical distribution, refrigeration, commercial, utilities, communications, petroleum distributors, and gas stations. In 2015, 182 facilities submitted a Tier II Chemical Inventory Form, reporting a countywide inventory of 674 hazardous chemicals.  Sixty-nine of the facilities reporting are categorized as storing extremely hazardous materials, which require extensive additional planning.
Pennsylvania Tier II System (PATTS)
The Bureau of PENNSAFE is responsible for the collection and maintenance of Tier II data reported by Pennsylvania facilities and owners/operators. The Tier II form as filed annually provides state and local officials with specific information on hazardous chemicals present at a facility during the prior calendar year for use in emergency planning and response. This information had been provided via hard copy submissions to the department. However, in December 2006 the Pennsylvania Tier II System (PATTS) was deployed to allow facilities to submit their information and update their records in a real time environment.
Facilities within the Commonwealth are strongly encouraged to submit their Tier II reports to the state using PATTS. Tier II data as provided by facilities for prior years has been converted to the new PATTS system, which pre-populates to the Tier II form. PATTS requires a secure user ID and password for a facility representative to access this information, and the database is maintained in a secure environment.
Click here to view the PATTS Web Site. (Must be registered with login credentials)
Click here to view the PA Department of Labor & Industry Tier II information page.
Directions
Additional Information
Mr. Michael F. Rinker
100 Gracedale Avenue
Nazareth, PA 18064
Upcoming Meetings
September 12, 2023 | 10:00 AM
December 6, 2023 | 10:00 AM
March 6, 2024 | 10:00 AM
June 5, 2024 | 10:00 AM
Public Meetings
All meetings are open to the public and are held quarterly.
Unless noted otherwise all public, quarterly meetings are held at the Northampton County Emergency Operations Center located at: